February 1st, 2021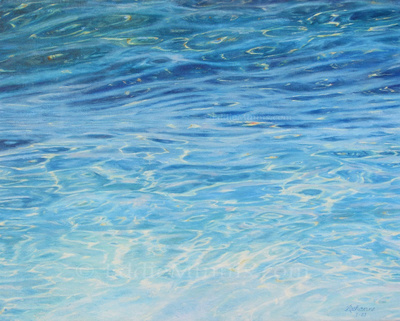 As the year 2020 draws to a close, we are moved to pause and reflect. What a year it has been, for so many reasons and in so many ways!

Who would have ever thought that Covid-19 would have had such a powerful grip on the whole world, changing our lives and way of thinking and doing things forever. In the Bahamas, our number one industry, tourism, just about came to a standstill. But despite the lack of visitors, our natural resources that draw tourists to our shores remain just as beautiful, or even more spectacular than ever.

I am fascinated by our sparkling turquoise waters. The waters of the Bahamas are so strikingly beautiful, they have been remarked on from outer space. (Let's hope they stay that way.) I wanted to do a study that focuses on just that, and I was able to catch the perfect shot on a Sunday drive out to Orange Hill Beach when the weekend lockdown was lifted. The flowing but calm waters are intriguing to me. But as I got into the painting and looked more deeply, I could see every colour of the rainbow reflected in our crystal clear waters. And the intricate designs and patterns made me think of the many contrasting and complex emotions we have all experienced during the past year.

We have been through so much, some of which has been deeply disturbing, churning up sadness and even despair. But with trust in God we hope for brighter times ahead. Yet we can still find beauty in every day and this gives us hope.